Public Policy Updates
Public Policy Committee: CMS Update
Posted on: 7/11/2016
The Centers for Medicare and Medicaid Services (CMS) continues to pursue a proactive stance to protect both the Medicare trust fund and improve outcomes for beneficiaries. View Full Posting
Public Policy Committee Update: ACMA goes to Washington
Bills would count observation toward SNF benefit, reform the RAC, and aid highest risk patients

Posted on: 10/8/2014
On September 30, a cadre of 15 case management professionals, including members of ACMA's Public Policy Committee, descended upon Washington, DC for two days to promote three specific pieces of legislation... View Full Posting
ACMA Urges CMS to Eliminate Home Health Face-to-Face Requirement
Posted on: 9/4/2014
On Tuesday, ACMA submitted a letter to CMS Administrator, Marilyn Tavenner, requesting that agency eliminate the home health face-to-face encounter documentation requirement mandated by the Patient Protection and Affordable Care Act... View Full Posting
CMS Issues FY 2015 IPPS Final Rule
Posted on: 8/5/2014
The Centers for Medicare & Medicaid Services (CMS) late yesterday issued its hospital inpatient prospective payment system final rule for fiscal year 2015... View Full Posting
Caring for an Aging Population: Future Challenges to Case Managers
Posted on: 7/22/2014
Based on the Administration on Aging, U.S. Department of Health and Human Services' report, "A Profile of Older Americans," (2010) in 2010 individuals aged 65 or older-numbered 40.4 million, which represents 13.1% of the population in the United States... View Full Posting
CMS Proposed Rule Would Eliminate Home Health Face-to-Face Requirement
Posted on: 7/1/2014
Today, the Centers for Medicare and Medicaid Services (CMS) issued a proposed rule would updating the Home Health Prospective Payment System (HH PPS) rates... View Full Posting
Senate Appropriations Subcommittee approves HHS spending bill
Posted on: 6/18/2014
On June 10, a Senate Appropriations Subcommittee approved the FY 2015 Labor-HHS-Education appropriations bill. The spending bill provides $156.77 billion in discretionary funding, the same amount as the FY 2014 level... View Full Posting
ACMA Shares Observation Concerns and Recommendations with House Ways and Means Health Subcommittee
Posted on: 6/10/2014
On Tuesday, June 3, ACMA submitted a letter to the House Ways and Means Health Subcommittee outlining concerns and recommendations related to observation services for consideration by the Committee and for inclusion in the printed record of its May 20, 2014, hearing... View Full Posting
Study reports adding socioeconomic data to standardized measures has big effect on calculated readmission rates
Posted on: 6/3/2014
A recent study published by Health Affairs found that more meaningful comparisons can be made when socioeconomic data is added to standardized readmission measures... View Full Posting
Report shows hospitals are improving care faster than other settings
Posted on: 5/27/2014
The 2013 National Healthcare Quality Report released by the Agency for Healthcare Research and Quality (AHRQ) shows that hospital quality improvements are surpassing those of home health, nursing home care and ambulatory settings... View Full Posting
Announcements
Celebrate National Case Management Week, Oct. 9–15
The 2016 theme is "We Listen. We Care. We Lead." Now is the time to make plans to recognize the dedication, compassion and patient care outcomes achieved by case management professionals in your organization. In conjunction with NCMW, October 12 is ACM™ Recognition Day! For celebration ideas, educational materials and more click here.
Call For Poster Presentations
Have you accomplished a case management or process improvement project? Have you developed an innovative program that has been a valuable resource to your patients, facility or agency? The ACMA Poster Session Committee invites you to submit a poster for the 2017 ACMA National Conference, April 20-23, 2017, in Washington, D.C. For more details click here.
NEW Compass: An Inside Look!
The 2016 release of Compass includes a complete curriculum for case managers and physician advisors. Check out what Compass can do for your organization: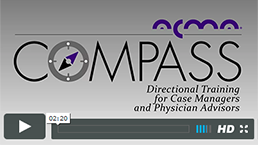 Order Compass today at acmaweb.org/compass.
Leadership Conference & Physician Advisor Conference - October 27-30
Registration is now available for these two powerful events designed for Case Management, Transitions of Care and Physician Advisor professionals. The ACMA Leadership Conference will be held Oct. 27-28, 2016, and the ACMA Physician Advisor Conference will run consecutively Oct. 28-30, 2016. Both events will be held at the Manchester Grand Hyatt in San Diego, California. For more details click here.
ACM™ Certification Study Guide is Online
How are you preparing to take the ACM™ Certification Exam? ACMA is now offering preparatory materials including a study guide and self-assessment exam. To learn more,
click here.