Public Policy Updates
Public Policy Committee: CMS Update
Posted on: 7/11/2016
The Centers for Medicare and Medicaid Services (CMS) continues to pursue a proactive stance to protect both the Medicare trust fund and improve outcomes for beneficiaries. View Full Posting
Public Policy Committee Update: ACMA goes to Washington
Bills would count observation toward SNF benefit, reform the RAC, and aid highest risk patients

Posted on: 10/8/2014
On September 30, a cadre of 15 case management professionals, including members of ACMA's Public Policy Committee, descended upon Washington, DC for two days to promote three specific pieces of legislation... View Full Posting
ACMA Urges CMS to Eliminate Home Health Face-to-Face Requirement
Posted on: 9/4/2014
On Tuesday, ACMA submitted a letter to CMS Administrator, Marilyn Tavenner, requesting that agency eliminate the home health face-to-face encounter documentation requirement mandated by the Patient Protection and Affordable Care Act... View Full Posting
CMS Issues FY 2015 IPPS Final Rule
Posted on: 8/5/2014
The Centers for Medicare & Medicaid Services (CMS) late yesterday issued its hospital inpatient prospective payment system final rule for fiscal year 2015... View Full Posting
Caring for an Aging Population: Future Challenges to Case Managers
Posted on: 7/22/2014
Based on the Administration on Aging, U.S. Department of Health and Human Services' report, "A Profile of Older Americans," (2010) in 2010 individuals aged 65 or older-numbered 40.4 million, which represents 13.1% of the population in the United States... View Full Posting
CMS Proposed Rule Would Eliminate Home Health Face-to-Face Requirement
Posted on: 7/1/2014
Today, the Centers for Medicare and Medicaid Services (CMS) issued a proposed rule would updating the Home Health Prospective Payment System (HH PPS) rates... View Full Posting
Senate Appropriations Subcommittee approves HHS spending bill
Posted on: 6/18/2014
On June 10, a Senate Appropriations Subcommittee approved the FY 2015 Labor-HHS-Education appropriations bill. The spending bill provides $156.77 billion in discretionary funding, the same amount as the FY 2014 level... View Full Posting
ACMA Shares Observation Concerns and Recommendations with House Ways and Means Health Subcommittee
Posted on: 6/10/2014
On Tuesday, June 3, ACMA submitted a letter to the House Ways and Means Health Subcommittee outlining concerns and recommendations related to observation services for consideration by the Committee and for inclusion in the printed record of its May 20, 2014, hearing... View Full Posting
Study reports adding socioeconomic data to standardized measures has big effect on calculated readmission rates
Posted on: 6/3/2014
A recent study published by Health Affairs found that more meaningful comparisons can be made when socioeconomic data is added to standardized readmission measures... View Full Posting
Report shows hospitals are improving care faster than other settings
Posted on: 5/27/2014
The 2013 National Healthcare Quality Report released by the Agency for Healthcare Research and Quality (AHRQ) shows that hospital quality improvements are surpassing those of home health, nursing home care and ambulatory settings... View Full Posting
Announcements
National Case Management Week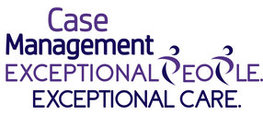 The ACMA National Case Management Week Store is now Open! ACMA encourages you to use this week to celebrate with your team and recognize case management's outcomes and achievements within health care.
Click here to order your National Case Management Week items.
National Case Management Week (NCMW) 2017 is October 8-14. This year's theme is Case Management: Exceptional People. Exceptional Care. We hope you will use NCMW as an opportunity to recognize the dedication, compassion, and patient care outcomes achieved by hospital case managers in your organization.
In conjunction with NCMW, October 11 is ACM™ Recognition Day! This is the perfect opportunity to recognize the case manager's efforts in becoming an Accredited Case Manager™. Celebrate their achievement with congratulations and a gift that showcases their distinction.
Save the Date for ACMA 2018!
ACMA's 2018 National Conference will be in Houston on April 24-27. Save the date now,
and don't miss your chance to network
attend informative sessions, earn CE, listen
to great speakers...and have LOTS of fun!

Click here to learn more.
ACMA and NBCM Welcome the Newest NBCM Chair
ACMA and the National Board for Case Management (NBCM) are excited to announce that Michelle Allen, VP of Case Management , CDI and Denial Management of HCA West Florida Division has been named as the newest Chair to the NBCM.

The NBCM is the governing body for the Accredited Case Manager (ACM™) Certification. Click here to learn more about the NBCM Board and the ACM™ Certification program, and stay tuned for exciting updates for ACMs and ACM Candidates!
2017 National Hospital Case Management Survey Now Available
The ACMA National Hospital Case
Management Survey - conducted every two years - produces the only source of national benchmarking data for the field of hospital/health system Case Management.
Download your copy through the ACMA Members Only Section, or join ACMA to
access this tool and many other resources.
Compass 2017 is Here!
See what's new with Compass in 2017!

New content. More continuing education. Enhanced presentation. Check out what Compass can do for your organization: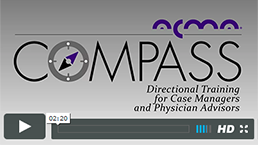 Learn more about Compass today at acmaweb.org/compass.
ACM™ Certification Study Guide is Online
How are you preparing to take the ACM™ Certification Exam? ACMA is now offering preparatory materials including a study guide and self-assessment exam. To learn more,
click here.