Legislative Updates
Advocacy Group Files Lawsuit Against Government Challenging Observation Status
Posted on: 11/4/2011
The Center for Medicare Advocacy, Inc. (CMA) filed a class action lawsuit yesterday stating that Medicare is using "observation status" to deny reimbursement to beneficiaries for hospital services and nursing home stays.
The lawsuit - Bagnall v. Sebelius - claims that the use of observation status is a violation of the Medicare statute, the Freedom of Information Act, and the Due Process Clause of the Fifth Amendment.
The lawsuit was filed on behalf of seven Medicare beneficiaries who had to pay the majority of their hospitalization costs because they were classified as "outpatient."
To read more on the Hill's healthcare blog, click here.
To read more in the Connecticut Mirror, click here.
To view the lawsuit, click here.
To access a supporting document on the CMA website, click here.
,
Announcements
ACMA Announces 2017 National Conference Keynote Speaker: Captain Mark Kelly (educational underwriter: Angel MedFlight)
A naval aviator and American astronaut, Captain Mark Kelly was thrust into the media spotlight after an assassination attempt on his wife, Congresswoman Gabrielle Giffords, in 2011. He quickly realized the importance of building a strong team of health care professionals to help aid his wife's recovery. Kelly will offer a unique perspective on collaborative environments where decision-making can have life or death consequences. Click here to learn more about Captain Mark Kelly's keynote address!
ACM Eligibility Requirement Update
The National Board for Case Management recently updated eligibility requirements for the ACM exam. Candidates now need only 12 months of supervised case management experience, in addition to the education requirements, to sit for the exam. Click here to learn more!
NEW Compass: An Inside Look!
See what's new with Compass in 2017!
New content. More continuing education. Enhanced presentation. Check out what Compass can do for your organization: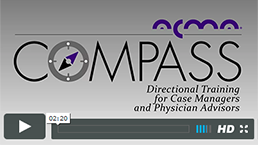 Learn more about Compass today at acmaweb.org/compass.
ACM™ Certification Study Guide is Online
How are you preparing to take the ACM™ Certification Exam? ACMA is now offering preparatory materials including a study guide and self-assessment exam. To learn more,
click here.