Legislative Updates
Battling Observation Status
Posted on: 4/18/2012
In November, the Center for Medicare Advocacy (CMA) filed a class action lawsuit (Bagnall v. Sebelius) against HHS. The Lawsuit states that Medicare is using "observation status" to deny reimbursement to beneficiaries for hospital services and nursing home stays, and that the use of observation status is a violation of the Medicare statute, the Freedom of Information Act, and the Due Process Clause of the Fifth Amendment. The lawsuit was filed on behalf of seven Medicare beneficiaries who had to pay the majority of their hospitalization costs because they were classified as "outpatient."
On May 3, Policy Attorneys from the Center for Medicare Advocacy who have been involved in the case will kick off the 2012 ACMA Webinar series by discussing the topic of Observation Status. Their session, titled Medicare Observation Status: When a Hospital Stay is Not a Hospital Stay, will provide updates on the "nationwide problem of observation status in acute care hospitals."
To read more about the lawsuit on the CMA website, click here.
For more information on the webinar, click here.
, ,
Announcements
Calling All Innovators

We are seeking thought-provoking, innovative and practical sessions that highlight one or more of the following:
Best practices
Successful initiatives or models
Effective tools or interventions
Programs that have demonstrated successful outcomes
Evidence-based research
New information on key topics in health care delivery system case management and transitions of care
We invite you to share your lessons learned, outcomes and expertise by submitting a proposal today. Click here to submit a presentation.
Save the Date for ACMA 2018!
ACMA's 2018 National Conference will be in Houston on April 24-26. Save the date now,
and don't miss your chance to network
attend informative sessions, earn CE, listen
to great speakers...and have LOTS of fun!

Click here to learn more.
ACMA and NBCM Welcome the Newest NBCM Chair
ACMA and he National Board for Case Management (NBCM) are excited to announce that Michelle Allen, VP of Case Management , CDI and Denial Management of HCA West Florida Division has been named as the newest Chair to the NBCM.

The NBCM is the governing body for the Accredited Case Manager (ACM™) Certification. Click here to learn more about the NBCM Board and the ACM™ Certification program, and stay tuned for exciting updates for ACMs and ACM Candidates!
2017 National Hospital Case Management Survey Now Available
The ACMA National Hospital Case
Management Survey - conducted every two years - produces the only source of national benchmarking data for the field of hospital/health system Case Management.
Download your copy through the ACMA Members Only Section, or join ACMA to
access this tool and many other resources.
Compass 2017 is Here!
See what's new with Compass in 2017!
New content. More continuing education. Enhanced presentation. Check out what Compass can do for your organization: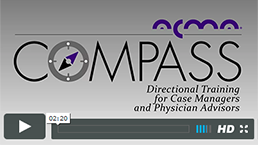 Learn more about Compass today at acmaweb.org/compass.
ACM™ Certification Study Guide is Online
How are you preparing to take the ACM™ Certification Exam? ACMA is now offering preparatory materials including a study guide and self-assessment exam. To learn more,
click here.