Legislative Updates
Battling Observation Status
Posted on: 4/18/2012
In November, the Center for Medicare Advocacy (CMA) filed a class action lawsuit (Bagnall v. Sebelius) against HHS. The Lawsuit states that Medicare is using "observation status" to deny reimbursement to beneficiaries for hospital services and nursing home stays, and that the use of observation status is a violation of the Medicare statute, the Freedom of Information Act, and the Due Process Clause of the Fifth Amendment. The lawsuit was filed on behalf of seven Medicare beneficiaries who had to pay the majority of their hospitalization costs because they were classified as "outpatient."
On May 3, Policy Attorneys from the Center for Medicare Advocacy who have been involved in the case will kick off the 2012 ACMA Webinar series by discussing the topic of Observation Status. Their session, titled Medicare Observation Status: When a Hospital Stay is Not a Hospital Stay, will provide updates on the "nationwide problem of observation status in acute care hospitals."
To read more about the lawsuit on the CMA website, click here.
For more information on the webinar, click here.
, ,
Announcements
Compass Directional Training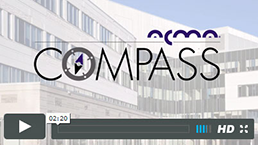 Do you struggle with competency validation or staff training for case managers or physician advisors?

Are you already using Compass, but want to know more about the changes in 2018?

Find out why more than 1,000 health care facilities and over 25,000 case managers use Compass. Learn More...
Giving Tuesday

Kick off the holiday giving season by giving back in an impactful way to a cause you support— advocating on behalf of patients' health care. We have two days for getting deals—Black Friday and Cyber Monday. On #GivingTuesday, we have a day for giving back. November 28th is the opening day of the giving season: a reminder of the "reason for the season."

Every act of generosity counts, and each means even more when we give together. Everyone has something to give. You can give time or expertise, monetary donations large or small and other simple acts of kindness. Together, we can demonstrate our common capacity to give. #Giving Tuesday is so much more than one day in November.



Special Announcement

We are pleased to announce the establishment of the Association of Physician Leadership in Care Management, APLCM.

Foundational to ACMA's collaborative philosophy is the principle that case management is not the domain of one clinical discipline, but rather demands the blend of multiple disciplines to ensure that patients receive high quality, cost-effective and accessible care in their transitions across the healthcare continuum.

Our new association will support physician leaders influencing care delivery models, executive leadership with case management oversight, and physician advisors for case management and transitions of care. Member benefits will include networking, research, education, training, standards, benchmarking and published content.

Click here to see the founding board.

Additional details coming soon...
2017 National Hospital Case Management Survey
The ACMA National Hospital Case
Management Survey - conducted every two years - produces the only source of national benchmarking data for the field of hospital/health system Case Management.
Download your copy through the ACMA Members Only Section, or join ACMA to
access this tool and many other resources.