Legislative Updates
Battling Observation Status
Posted on: 4/18/2012
In November, the Center for Medicare Advocacy (CMA) filed a class action lawsuit (Bagnall v. Sebelius) against HHS. The Lawsuit states that Medicare is using "observation status" to deny reimbursement to beneficiaries for hospital services and nursing home stays, and that the use of observation status is a violation of the Medicare statute, the Freedom of Information Act, and the Due Process Clause of the Fifth Amendment. The lawsuit was filed on behalf of seven Medicare beneficiaries who had to pay the majority of their hospitalization costs because they were classified as "outpatient."
On May 3, Policy Attorneys from the Center for Medicare Advocacy who have been involved in the case will kick off the 2012 ACMA Webinar series by discussing the topic of Observation Status. Their session, titled Medicare Observation Status: When a Hospital Stay is Not a Hospital Stay, will provide updates on the "nationwide problem of observation status in acute care hospitals."
To read more about the lawsuit on the CMA website, click here.
For more information on the webinar, click here.
, ,
Announcements
NEW Compass: An Inside Look!
The 2016 release of Compass includes a complete curriculum for case managers and physician advisors. Check out what Compass can do for your organization: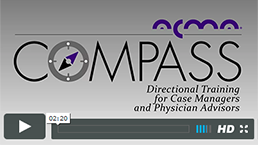 Order Compass today at acmaweb.org/compass.
ACM™ Certification Study Guide is Online
How are you preparing to take the ACM™ Certification Exam? ACMA is now offering preparatory materials including a study guide and self-assessment exam. To learn more,
click here.