Legislative Updates
Study reports adding socioeconomic data to standardized measures has big effect on calculated readmission rates
Posted on: 6/3/2014
A recent study published by Health Affairs found that more meaningful comparisons can be made when socioeconomic data is added to standardized readmission measures. The researchers compared 30-day readmissions rates from hospitals that used one of two models. The first model was the current model used by the Centers for Medicare and Medicaid Services (CMS) for public reporting of condition-specific hospital readmission rates of Medicare patients. The second model involved census tract-level socioeconomic data, such as poverty rate, education level and housing vacancy rate.

The results saw a noticeable effect on the calculated hospital readmission rates for several types of patients. The narrowed range of observed variation in readmission rates attributed to the inclusion of socioeconomic data includes:
Decrease for patients admitted for acute myocardial infarction from 6.5% to 1.8%
Decrease for patients admitted for heart failure from 14% to 7.4%
Decrease for patients admitted for pneumonia from 7.4% to 3.7%
Although the socioeconomic data narrowed the range of observed variation in calculated readmission rates, there was not a significant difference between the two models in the average readmission rates for these three conditions.

To read the abstract in Health Affairs, click here.
Announcements
Compass 2017 is Here!
See what's new with Compass in 2017!
New content. More continuing education. Enhanced presentation. Check out what Compass can do for your organization: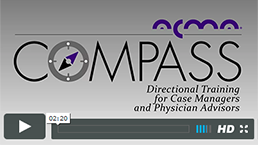 Learn more about Compass today at acmaweb.org/compass.
Why should you attend the 2017 ACMA National Conference?
Watch this promotional video and hear from some of our board members and past attendees as they enthusiastically describe networking with more than 2000 attendees and exhibitors, career growth opportunities, over 30 hours of Continuing Education credits, informative sessions, great speakers, and fun! You don't want to miss it!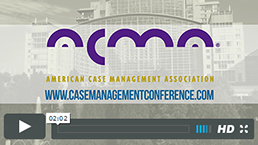 Click here to register today.
ACMA Announces 2017 National Conference Keynote Speaker: Captain Mark Kelly (educational underwriter: Angel MedFlight)
A naval aviator and American astronaut, Captain Mark Kelly was thrust into the media spotlight after an assassination attempt on his wife, Congresswoman Gabrielle Giffords, in 2011. He quickly realized the importance of building a strong team of health care professionals to help aid his wife's recovery. Kelly will offer a unique perspective on collaborative environments where decision-making can have life or death consequences. Click here to learn more about Captain Mark Kelly's keynote address!
ACM Eligibility Requirement Update
The National Board for Case Management recently updated eligibility requirements for the ACM exam. Candidates now need only 12 months of supervised case management experience, in addition to the education requirements, to sit for the exam. Click here to learn more!
ACM™ Certification Study Guide is Online
How are you preparing to take the ACM™ Certification Exam? ACMA is now offering preparatory materials including a study guide and self-assessment exam. To learn more,
click here.