Legislative Updates
Study reports adding socioeconomic data to standardized measures has big effect on calculated readmission rates
Posted on: 6/3/2014
A recent study published by Health Affairs found that more meaningful comparisons can be made when socioeconomic data is added to standardized readmission measures. The researchers compared 30-day readmissions rates from hospitals that used one of two models. The first model was the current model used by the Centers for Medicare and Medicaid Services (CMS) for public reporting of condition-specific hospital readmission rates of Medicare patients. The second model involved census tract-level socioeconomic data, such as poverty rate, education level and housing vacancy rate.

The results saw a noticeable effect on the calculated hospital readmission rates for several types of patients. The narrowed range of observed variation in readmission rates attributed to the inclusion of socioeconomic data includes:
Decrease for patients admitted for acute myocardial infarction from 6.5% to 1.8%
Decrease for patients admitted for heart failure from 14% to 7.4%
Decrease for patients admitted for pneumonia from 7.4% to 3.7%
Although the socioeconomic data narrowed the range of observed variation in calculated readmission rates, there was not a significant difference between the two models in the average readmission rates for these three conditions.

To read the abstract in Health Affairs, click here.
Announcements
Compass Directional Training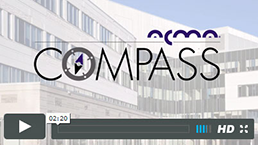 Do you struggle with competency validation or staff training for case managers or physician advisors?

Are you already using Compass, but want to know more about the changes in 2018?

Find out why more than 1,000 health care facilities and over 25,000 case managers use Compass. Learn More...
Giving Tuesday

Kick off the holiday giving season by giving back in an impactful way to a cause you support— advocating on behalf of patients' health care. We have two days for getting deals—Black Friday and Cyber Monday. On #GivingTuesday, we have a day for giving back. November 28th is the opening day of the giving season: a reminder of the "reason for the season."

Every act of generosity counts, and each means even more when we give together. Everyone has something to give. You can give time or expertise, monetary donations large or small and other simple acts of kindness. Together, we can demonstrate our common capacity to give. #Giving Tuesday is so much more than one day in November.



Special Announcement

We are pleased to announce the establishment of the Association of Physician Leadership in Care Management, APLCM.

Foundational to ACMA's collaborative philosophy is the principle that case management is not the domain of one clinical discipline, but rather demands the blend of multiple disciplines to ensure that patients receive high quality, cost-effective and accessible care in their transitions across the healthcare continuum.

Our new association will support physician leaders influencing care delivery models, executive leadership with case management oversight, and physician advisors for case management and transitions of care. Member benefits will include networking, research, education, training, standards, benchmarking and published content.

Click here to see the founding board.

Additional details coming soon...
2017 National Hospital Case Management Survey
The ACMA National Hospital Case
Management Survey - conducted every two years - produces the only source of national benchmarking data for the field of hospital/health system Case Management.
Download your copy through the ACMA Members Only Section, or join ACMA to
access this tool and many other resources.