Legislative Updates
Public Policy Committee Update: ACMA goes to Washington
Bills would count observation toward SNF benefit, reform the RAC, and aid highest risk patients

Posted on: 10/8/2014
By: Steven J. Meyerson, M.D.
On September 30, a cadre of 15 case management professionals, including members of ACMA's Public Policy Committee, descended upon Washington, DC for two days to promote three specific pieces of legislation. Since Congress had taken an earlier than expected recess to go home and campaign for the upcoming midterm elections, ACMA representatives were happy to meet with the legislative assistants who specialized in healthcare issues in the offices of their respective Congressmen and Senators. This "trek to Washington" is an annual event for ACMA and serves to educate legislators on issues important to Medicare beneficiaries and hospitals and urge lawmakers to support key pieces of legislation. The delegation reported that the Congressional aides were uniformly well-informed, engaged, and receptive to their message regardless of their political party. The meetings clearly stimulated interest in the targeted legislation, and ACMA members will follow-up with Congressional staff regarding their specific requests related to the following bills:
Improving Access to Medicare Coverage Act would count observation toward SNF benefit
The first bill to get ACMA support was the Improving Access to Medicare Coverage Act1 (HR-1179 in the House where it has 159 bipartisan cosponsors and S-569 in the Senate where there are 27 cosponsors). This bill, which was first introduced in an earlier session, would count nights in an outpatient hospital bed (such as a night in observation) toward the three inpatient nights that are required to qualify a beneficiary for the skilled nursing facility (SNF) Medicare benefit. This reform is needed because many Medicare beneficiaries spend the first night in the hospital in observation and this night does not count toward the SNF benefit. As a result, a Medicare patient with a night in observation requires three more nights as an inpatient and many of these patients are ready for transfer to a lower level of care after the third night of hospital care, which is only the second inpatient night, and does not qualify for Medicare coverage at the SNF. Counting the initial observation night toward the SNF benefit would allow more Medicare beneficiaries to access this important benefit. The question of paying for additional skilled nursing care of course came up early in the discussions. While no price tag has been placed on this proposal, the increased cost for skilled nursing facilities would at least in part be balanced by fewer hospital readmissions. Since the difference between observation and inpatient admission is the anticipated length of stay, not the patient's clinical condition or the hospital services they require, the initial night in observation does not distinguish between patients for whom skilled nursing care in a SNF would be appropriate from those who would not benefit.
The Medicare Audit Improvement Act would provide RAC transparency and accountability
The second bill, the Medicare Audit Improvement Act2 (HR-1250 in the House where there are 231 cosponsors and S-1012 which has 16 cosponsors in the Senate) would reform the Medicare Recovery Audit (RAC) program by increasing transparency and accountability. The bill calls for public reporting of each contractor's denial rate as well as the rate at which its denials are overturned in the appeal process. It would impose penalties on the recovery auditors for overturned denials and for failing to meet prescribed timelines. The bill would cap the number of additional documentation requests to 500 per 45 days or 2% of Medicare claims and would require physician validation of denials, which are currently at the discretion of nurse reviewers.
The Better Care, Lower Cost Act would provide just that for the chronically ill
The third bill has a name which is hard to argue with; it's the Better Care, Lower-Cost Act3 (HR-3890 and S-1932). This new bill has only one cosponsor in each house and would establish a novel integrated chronic care delivery system designed for Medicare beneficiaries with multiple comorbidities. These Medicare patients, who consume a disproportionate share of Medicare resources, represent a significant challenge to individual providers, networks, and Medicare advantage plans. They tend to be on multiple medications and see a variety of specialist physicians as well as other skilled providers such as physical and occupational therapists, have frequent hospital admissions and readmissions, and often have no coordination of their care. The Better Care Program (BCP), as it's called would be a capitated risk-adjusted network designed to promote quality care and cost containment.
According to Congress.gov, the bill "promotes accountability and better care management for chronically ill patient populations and coordinates items and services under Medicare parts A (Hospital Insurance), B (Supplementary Medical Insurance), and D (Voluntary Prescription Drug Benefit Program), while encouraging investment in infrastructure and redesigned care processes that result in high quality and efficient service delivery for the most vulnerable and costly populations. [It] requires the program to include specified elements and focus on long-term cost containment and better overall health of the Medicare population by implementing through qualified BCPs strategies that prevent, delay, or minimize the progression of illness or disability associated with chronic conditions." The bill would fund "at least three Chronic Care Innovation Centers" and establish "new curricula requirements for direct and indirect graduate medical education payments that address the need for team-based care and chronic care management, including palliative medicine, chronic care management, leadership and team-based skills and planning, and leveraging technology as a care tool.
References
1. HR-1179: https://www.congress.gov/bill/113th-congress/house-bill/1179
2. HR-1250: https://www.congress.gov/bill/113th-congress/house-bill/1250
3. HR-3890: https://www.congress.gov/bill/113th-congress/house-bill/3890

Announcements
Compass 2017 is Here!
See what's new with Compass in 2017!
New content. More continuing education. Enhanced presentation. Check out what Compass can do for your organization: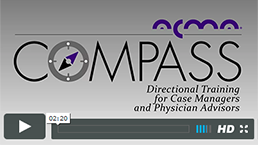 Learn more about Compass today at acmaweb.org/compass.
Why should you attend the 2017 ACMA National Conference?
Watch this promotional video and hear from some of our board members and past attendees as they enthusiastically describe networking with more than 2000 attendees and exhibitors, career growth opportunities, over 30 hours of Continuing Education credits, informative sessions, great speakers, and fun! You don't want to miss it!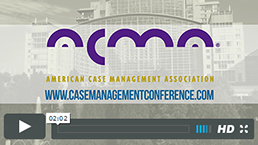 Click here to register today.
ACMA Announces 2017 National Conference Keynote Speaker: Captain Mark Kelly (educational underwriter: Angel MedFlight)
A naval aviator and American astronaut, Captain Mark Kelly was thrust into the media spotlight after an assassination attempt on his wife, Congresswoman Gabrielle Giffords, in 2011. He quickly realized the importance of building a strong team of health care professionals to help aid his wife's recovery. Kelly will offer a unique perspective on collaborative environments where decision-making can have life or death consequences. Click here to learn more about Captain Mark Kelly's keynote address!
ACM Eligibility Requirement Update
The National Board for Case Management recently updated eligibility requirements for the ACM exam. Candidates now need only 12 months of supervised case management experience, in addition to the education requirements, to sit for the exam. Click here to learn more!
ACM™ Certification Study Guide is Online
How are you preparing to take the ACM™ Certification Exam? ACMA is now offering preparatory materials including a study guide and self-assessment exam. To learn more,
click here.