Legislative Updates
Public Policy Committee: CMS Update
Posted on: 7/11/2016
By Patricia Velky, RN, BSN, MS, MBA, CPHQ, FAACM, FABC, ACM
The Centers for Medicare and Medicaid Services (CMS) continues to pursue a proactive stance to protect both the Medicare trust fund and improve outcomes for beneficiaries. CMS recently held a second Open Door Forum (ODF) call to provide additional details regarding a three-year Medicare pre-claim review demonstration for home health services set to begin in the states of Illinois, Florida, and Texas in 2016, and in the states of Michigan and Massachusetts beginning in 2017.
As noted on the website "CMS is testing whether pre-claim review improves methods for the identification, investigation, and prosecution of Medicare fraud occurring among Home Health Agencies (HHAs) providing services to people with Medicare benefits. Additionally, CMS is also testing whether the demonstration helps reduce expenditures while maintaining or improving quality of care."
CMS representatives assured callers that the pre-claim review process does not create new documentation requirements, would not delay access to care or alter the Home Health benefit. A key component of the demonstration project is that the documentation to support payment will be submitted earlier in the process. Direct feedback will be provided to the agency on deficiencies in the submitted documentation thus avoiding improper payments to and potential appeals from the Home Health agencies. Specific turnaround times are spelled out in the Operational guide and CMS stressed that this pre-claim review process should not be a barrier to the start of care for any Medicare beneficiary.
For more information, visit CMS.gov or click the link to the fact sheet below: https://www.cms.gov/Research-Statistics-Data-and-Systems/Monitoring-Programs/Medicare-FFS-Compliance-Programs/Pre-Claim-Review-Initiatives/Downloads/Pre_Claim_Review_Fact_Sheet.pdf
Additionally, on July 6, 2016, CMS released the Calendar Year (CY) 2017 Hospital Outpatient Prospective Payment System (OPPS) and Ambulatory Surgical Center (ASC) Payment System proposed rule (CMS-1656-P). Among other things it has key language to implement Section 603 of the Bipartisan Budget Act of 2015, which impacts the way Medicare pays for certain items and services furnished by certain off-campus outpatient departments of a provider. This is often referred to as "site neutral payment."
Another key component receiving media attention is the proposed removal of the Pain Management dimension of the Hospital Consumer Assessment of Healthcare Providers and Systems (HCAHPS) survey for purposes of the Hospital Value Based Purchasing Program. Changes to the incentive program for EHRs and changes to definitions/documentation requirements for organ procurement agencies are outlined. As always the annual update to the Medicare Inpatient Only (IPO) List (addendum E) is included. For CY 2017, CMS is proposing to remove six procedures from the IPO list. The procedures include four spine procedures as well as two laryngoplasty procedures. The proposed rule also includes for the second year in a row a comment solicitation regarding whether total knee arthroplasty (TKA) should be removed from the IPO list in a subsequent year.
For more information, visit CMS.gov or click the link to the fact sheet below: https://www.cms.gov/Newsroom/MediaReleaseDatabase/Fact-sheets/2016-Fact-sheets-items/2016-07-06.html
Announcements
National Case Management Week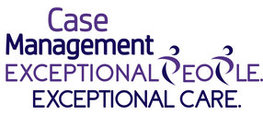 The ACMA National Case Management Week Store is now Open! ACMA encourages you to use this week to celebrate with your team and recognize case management's outcomes and achievements within health care.
Click here to order your National Case Management Week items.
National Case Management Week (NCMW) 2017 is October 8-14. This year's theme is Case Management: Exceptional People. Exceptional Care. We hope you will use NCMW as an opportunity to recognize the dedication, compassion, and patient care outcomes achieved by hospital case managers in your organization.
In conjunction with NCMW, October 11 is ACM™ Recognition Day! This is the perfect opportunity to recognize the case manager's efforts in becoming an Accredited Case Manager™. Celebrate their achievement with congratulations and a gift that showcases their distinction.
Save the Date for ACMA 2018!
ACMA's 2018 National Conference will be in Houston on April 24-27. Save the date now,
and don't miss your chance to network
attend informative sessions, earn CE, listen
to great speakers...and have LOTS of fun!

Click here to learn more.
ACMA and NBCM Welcome the Newest NBCM Chair
ACMA and the National Board for Case Management (NBCM) are excited to announce that Michelle Allen, VP of Case Management , CDI and Denial Management of HCA West Florida Division has been named as the newest Chair to the NBCM.

The NBCM is the governing body for the Accredited Case Manager (ACM™) Certification. Click here to learn more about the NBCM Board and the ACM™ Certification program, and stay tuned for exciting updates for ACMs and ACM Candidates!
2017 National Hospital Case Management Survey Now Available
The ACMA National Hospital Case
Management Survey - conducted every two years - produces the only source of national benchmarking data for the field of hospital/health system Case Management.
Download your copy through the ACMA Members Only Section, or join ACMA to
access this tool and many other resources.
Compass 2017 is Here!
See what's new with Compass in 2017!

New content. More continuing education. Enhanced presentation. Check out what Compass can do for your organization: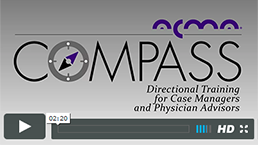 Learn more about Compass today at acmaweb.org/compass.
ACM™ Certification Study Guide is Online
How are you preparing to take the ACM™ Certification Exam? ACMA is now offering preparatory materials including a study guide and self-assessment exam. To learn more,
click here.